21st Century BA: How to Become a Business Technologist
In the 21st century, all businesses are technology companies. To survive in the global economy, indeed to thrive, world-class, agile and flexible technology is a necessity.
Without it, organizations cannot cope with the ever-changing competitive environment. Competition is fierce, and an organization's competitive advantage is always at risk. In addition, the business environment is stunningly complex. Innovation is a precondition to survival. Technology advances are coming fast and furiously. Organizations are struggling to find the talent needed to drive changes to the business and the technology to achieve and sustain competitive advantage.
WE NEED TO CHANGE OUR PERSPECTIVE
The business analysis discipline needs to elevate its thinking, discarding the notion that requirements management is the most important task at hand. That is a very narrow, and frankly doomed view of the scope of business analysis. As enterprise BAs, striving to fill the role of Business Technologists, we are adopting a core enterprise perspective that is driven by the need for business/technology investments to create optimal business benefits in terms of value to customers and wealth to the bottom line.
WE NEED A HOLISTIC VIEW OF THE BUSINESS AND THE TECHNOLOGY
The effective Enterprise BA/Business Technologist thinks big. Thinks strategically. Thinks holistically. Thinks about the customer. Understands that the business and technology components of the organization are part of an ecosystem that is always changing and adapting to variations in the competitive environment and transformations in technology, resulting in requisite changes to business processes, technology, products, and services. While there is no technology that is the silver bullet, we continue to seek out technical products and technical managers to solve all of our problems.
There is no single silver bullet. It's about being able to identify technologies, understand their implications, combine them in an effective way, and make intelligent decisions in employing them, creating a set of operational processes and organizational structures to surround them, which is a much harder thing than simply investing in one technology versus another.
… We need technologists who understand more in the way of the economic analysis and business strategy. I would also suggest we need technologists who are more integrative problem solvers, which is to say we need technologists who can solve problems across multiple technology domains, and across business and technology domains.
James Kaplan, Principal at McKinsey&Companyi
WE NEED TO GROW UP FAST
An IBM CEO study as long ago as 2010 identified complexity as the biggest challenge, and creativity as the most important skill that is needed to understand and manage complexityii. They went on to say, they have not groomed creative leaders from within, and they can't find the talent they need through traditional staffing activities. Conventional project roles are changing. The EBA focus is now on strategy, innovation, and value vs. requirements management. The PM focus is now on complexity management vs. project management. However, companies can't find these types of BAs/PMs – critical thinkers with the ability to:
Adapt, invent, and re-invent
Collaborate, create, and innovate
Leverage complexity to compete.
The business analysis discipline, and therefore the effective business technologist, needs to quickly attain breakthrough skills and competencies – en masse. The need is urgent. Realizing that there is so much innovation in technology today, no organization can know all about the different technology domains that are emerging. Therefore, creativity, problem solving and integration skills become much more important that any specific knowledge about a technical domain such as cyber cybersecurity, cloud computing, or big data. To fill the void, organizations that rely heavily on technology such as banks, insurance companies, and healthcare companies are starting to recruit from within and from outside in the high-tech industry. They are seeking out individuals with a broad set of skills, individuals who have the ability to span business and technology domains, who have experience in integrative problem solving.
Staffing and career development operatives are responding to the need. Companies are seeking out internal and external managers and high performers who are willing to move between different parts of an IT organization as they progress. Some business managers are also moving from the business into selected roles in technology organizations in order to infuse more business acumen into the IT management staff. We need innovation in the world of training for business and IT professionals. Instead of focusing on technical disciplines, Kaplan urges us to foster what he calls first-principles technology problem solving or cross-domain integrative-technology problem solvingiii.
ELEVATE YOUR PROFESSIONAL DEVELOPMENT APPROACH
For the individual BA who is looking to elevate their career and status in their organizations, it's time to modernize your career development approach. Get your hands around a new attitude about your professional development. Build strategy-focused, value-based thinking into your advancement plans.
SEEK OUT NEW ROLES
21st Century EBAs/BTs are bold and courageous. They search for new roles and new challenges to broaden and deepen their experience, knowledge, and expertise. They put themselves in positions with high visibility where the action is. They thrive when working collaboratively with other experts in uncertainty and ambiguity. People in the business and in IT seek them out, asking for them to be on their teams.
LEAD THROUGH CONNECTIONS
The 21st Century is all about connections. In the global world of business complexity, it takes a high functioning team of experts to negotiate the business and technical complexities. So, perhaps your most critical capability is to bring together a group of experts (first get the right people in the room!), and then create an environment where it is safe to experiment, suggest off-the-wall ideas, challenge and build on each other's ideas; then rapidly test ideas to determine viabilityiv.
WHAT DOES ALL THIS MEAN TO THOSE AT THE TOP OF THE BA FOOD CHAIN?
There are many things you can do to accelerate your transition to an enterprise, strategically focused business technologist. Review the suggestions in this article. Get yourself out there. Promote yourself and your project successes.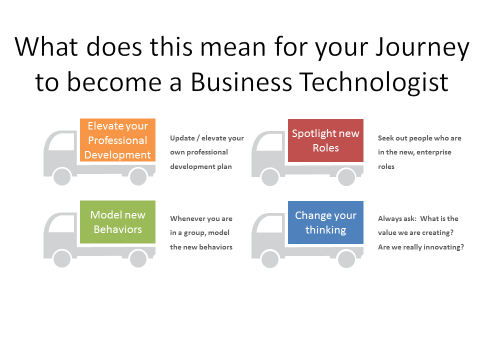 The next few articles will explore other roles for the enterprise BA, as well as business and technical domains that are undergoing significant transformations.
i Becoming a Better Business Technologist, May 2016. McKinsey and Company. Online at http://www.mckinsey.com/business-functions/business-technology/our-insights/becoming-a-better-business-technologist.
ii Capitalizing on Complexity, Insights from the 2010 IBM Global CEO Study. Online at: http://www-935.ibm.com/services/us/ceo/ceostudy2010/multimedia.html
iii Becoming a Better Business Technologist, May 2016. McKinsey and Company. Online at http://www.mckinsey.com/business-functions/business-technology/our-insights/becoming-a-better-business-technologist.
iv Leading Through Connections, Insights from the 2012 IBM Global CEO Study (www.ibm.com/services/us/en/c-suite/ceostudy2012/‎