5 Trusted Tips to Move Your Business Analyst Career to a C-Suite Role
I am sure you have come across those corner offices, those suave personalities, and aspired to be one like them someday.
Well, these are the C-Suite roles like CEO, CDO, CIO, CFO, CTO, COO, etc.
The top executives of the company are its C-suite members. C-suite is a term used to refer to the C-level (senior executive) positions in a company, notably those that begin with the word 'Chief'.
These are strategic roles in the organization that sets the path, strategy, and often the directions which are being executed by the middle management and the others in the hierarchy. The c-suite is deemed the most important and influential group of individuals and hence the most admired designations. They are the ones who almost always are the highest paid in the organization, ones who yield the maximum amount of authority along with the major responsibilities.
But as they say, "With great power comes great responsibilities", and so notably the C-suite professionals have the largest portion of responsibility in the organization.
Every professional's aim is to reach the top echelon of the organization. As a BA if you are good at your work, are creative and innovative, complemented by having a proactive nature, you can take your business analyst career path as far as you would like, progressing through management levels to the topmost level, inhibited only by your expertise, talents, and desires.
Business Analysts are the bridge between the different departments of a company. They are in high demand in every area of business, from finance to IT to corporate management. In today's multifaceted world, business analysts bring the business needs together with IT resources. BAs are in essence the conduit between business problems and solutions. They, therefore, understand the various areas of the business very well.
Typically, in an organization, the CEO develops the vision and the Business Analyst does the research and groundwork to make that vision more clearly understood. Richie Bello, CEO of White Dove Bird, explains. "In terms of vision, a CEO is the developer while a business analyst is the researcher." Hence, a BA is already aware of what it entails to be a CEO, they just need to gain the experience, skillset, and knowledge to don the hat of a C-suite level professional.
Business analysts who aspire to the topmost leadership positions and who are looking to expand their career horizons need to be multidimensional professionals with broad business, IT, and leadership skills. They must seek out and create their own opportunities beyond their comfort zones, hone their existing skillsets, and acquire new knowledge and skillsets required for the coveted role.
In this blog, we discuss some broad guidelines which a BA can follow to take their career to the top level.
Business analysts should broaden their cross-functional experience.
According to Andy Salunga from Forrester Research, "Business analysts looking to expand their career horizons must seek challenges outside of their functional heritage."
For a BA to grow into a C-suite role, they need to deepen their functional expertise and broaden their knowledge of the various departments and domains of an organization. A business analyst already possesses cross-functional knowledge and by honing up these they will be better placed for taking on broader responsibilities.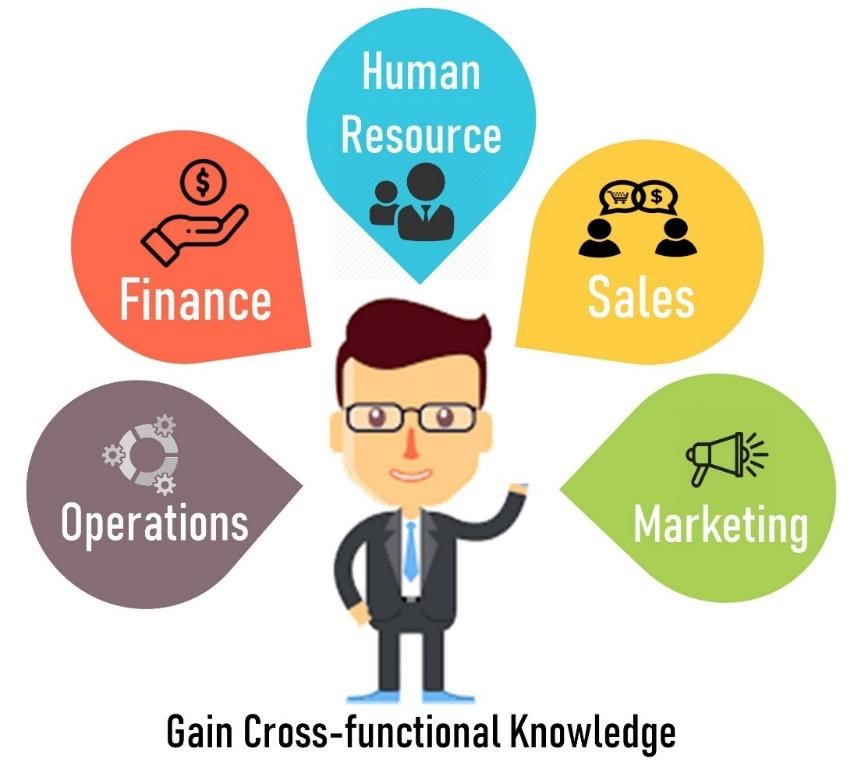 Business analysts should increase technological knowledge & skills and become familiar with process & IT management methodologies.
A business analyst, to move forward on their career path, requires a higher degree of technological fluency. Executives who neglect their technical skills might be passed over. In a fast-changing global economy, dated technical skills can hamper resource-allocation and strategic decisions.
Therefore, it's important to learn tools for business process charting, modeling to draw the current and the future vision of the process. Tools like MS Visio, Lucid Chart, BizAgi Business process modeler, etc., come in handy here.
A BA should seek to understand and utilize methodologies like Lean Six Sigma, CMMI, ITIL, etc., to improve processes and enable broad-scale business innovation and to improve IT performance and align IT with the business.

Business analysts should nurture and strengthen their behavioral skills.
Every BA should have a unique blend of interpersonal skills, but some behavioral skills are worth their value in gold as one climbs up the ladder in their career. A few notable amongst those are
Problem-solving Skill
Decision Making Skill
Creative & Innovative Thinking
Analytical thinking Skill
Team Building Skill
Presentation Skill
Questioning Skill
Communication Skill
Listening Skill
Negotiation Skill
Conflict Resolution Skill
Facilitation Skill
While vying for the top jobs in an organization, it is imperative to be good at building relationships with people across departments to be effective. BAs must hone their organizational change management skills, conflict resolution skills, leadership skills, and other interpersonal skills as they envisage leading ever-changing teams and initiatives while climbing up the corporate ladder. 
---
Advertisement

---
Certification & Training, a sure-shot way of 'Moving Up the Ladder'
Most successful people, I have spoken to and even read about agree that a continuous thirst for knowledge is one of the key elements in building a growing, and thriving career. Certifications not only increase the professional value of a person but also enhances the skills by making one learn new things beyond their job.
Certification tells your organization, future employers, and your professional peers that you're well-qualified and that you take your career seriously. Simply put, certifications can be considered as a 'stamp of excellence'.
One of the most important reasons to get certified is that it helps you stay ahead of the competition. If you truly want to succeed in your career, you need to stay current in all the technologies and regulations that affect your profession.
For a business analyst, there are a number of industry-recognized certificates that they can acquire. Business analysis certification is a specialized education that works as a credential for a business analyst professional. Several specialized certifications can be pursued as you go ahead in your career.
Read about all the different BA certifications available in the market in this blog – Business Analysis Certifications
The certification space for the BA community has been dominated by IIBA. IIBA has been promoting the business analysis profession and certification for more than a decade now with its certifications ECBA (entry-level), CCBA (intermediate level), CBAP (Advanced level) and specialized certifications like AAC (Agile Analysis Certification), CBDA (Certification in Business Data Analytics) and CCA (Certification in Cybersecurity Analysis), each requiring a different level of experience.
As the C-suite role is the most experienced position in the organization, for a BA, it would be highly desirable if they have the CBAP certification along with specialized certifications like CBDA and AAC under their belt.
CBAP
CBAP is essentially is meant for senior business analysts and is the most coveted BA certification in the world. CBAP certification has proven results in terms of salary benefits, career growth, and opening up new opportunities in the global markets. CBAP exam has case study and scenario based questions based on Business Analysis Body of Knowledge (BABoK).
IIBA-AAC
IIBA Agile Analysis Certification recognizes the competencies of BA professionals and is ideal for Agile BAs, BA Consultants, Trainers, Project Managers, Testers, etc. The IIBA-AAC exam is closely aligned to the Agile Extension to the BABOK® Guide, version 2 and tests one's ability to answer questions focused on real-world scenarios.
IIBA-CBDA
CBDA recognizes a BA Practitioner's ability to effectively execute analysis related work in support of business analytics initiatives and is an indication of one's commitment, passion, and competency in performing business analysis on analytics initiatives.
Business analysts should hone & develop Leadership Skills
Leadership is all about motivating others to dream higher, do things, and act in ways that are conducive to achieving goals.
In any business, leadership skills are one of the most prized assets that an employee can possess, and when it comes to positions at the C-level, they're considered an absolute essential.
For BAs, leadership skills are not an unknown territory. They generally use leadership when facilitating discussions, guiding teams through ambiguous situations, articulating and inspiring a clear vision of the desired future state, encouraging stakeholders to think in new ways, and collaborating with stakeholders to work toward common goals. Given this, it should be easier for BAs to hone up their leadership skills.
Business analysts can hone their leadership skills through the following activities:
Taking initiative
Being decisive
Guiding others in their tasks
Setting clear directions and goals
Influencing others
Being an example for others to emulate
Continuously learning from others & situations
Listening actively & Communicating clearly
Having empathy & positivity
Resolving conflicts
At the C-level, knowing the organization's goal and where to reach is only a small part of the equation – knowing how to get others to follow you there is the harder and more important part. And in this leadership skills of the professional makes a lot of difference.
In short, the skills needed by a business analyst to step-up to the C-level of a company cover a wide range of subjects, from working with and leading others to know oneself and striving to expand skills and knowledge at every career phase.
A business analyst is a generalist who is proficient in functioning completely in different positions. The future of business analyst is prosperous in the global market. Following the steps mentioned above, you can reach as high as your aspirations and diligence takes you. Following a well thought out road map will be a lucrative and rewarding move.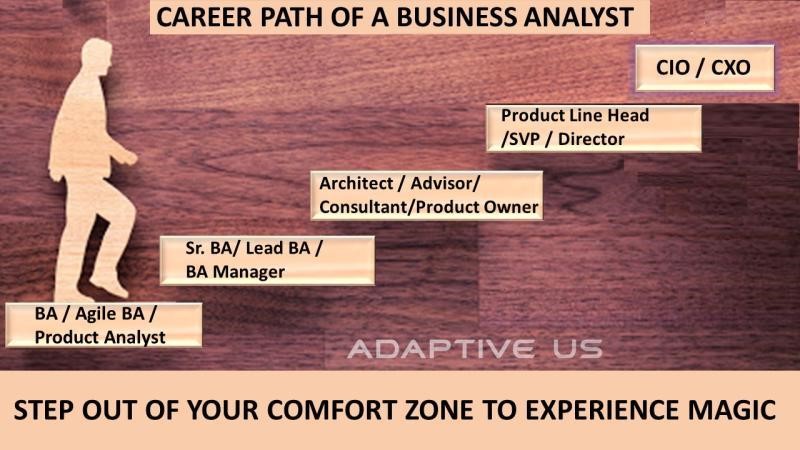 As a business analyst aspiring to reach the top-tier of the organization, you should prepare a road-map and follow it diligently. Mastering business analysis skills, to have the business acumen necessary to ascend to the top, along with following and honing the aforementioned steps & skills will definitely aid in climbing the ranks and become a prized executive.
You can learn more about earning your Certified Business Analysis Professional certification with Adaptive US today by following this link here – https://www.adaptiveus.com/cbap-certification-training You can find a large library of information there as well that will help guide you in deciding whether or not to take the next steps.
---
Ananya Pani
I am an entrepreneur, building my brand to be a global name in the Business Analysis domain. My mission is to help business analysts to build a successful professional career. I have helped 2000+ BAs in choosing a better career and help them achieve professional success. I co-founded Adaptive US, a Business analysis skill development organization. I manage sales and operations at Adaptive US. Under my leadership, Adaptive is now established as a world-leader.
---