Is Your Business Analysis Process Like Buying a Car?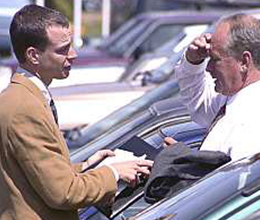 This past weekend my wife and I bought a new car.  I was replacing my 14 year old Ford Explorer and had 3 cars in my sights. I went to 3 dealerships to test drive those cars.  What a nightmare!  I thought the car buying experience was going to be better than 14 years ago.  I actually think the process is worse.
With all the online tools available and my network of friends I did all the research.  I knew which cars I liked, what the dealers pay for the cars and what people in my area have been paying for them.  The first step I took was to submit my information on the dealership's website, get a price quote and set up an appointment to test drive the car.  For each dealership I received an automated email stating I was a preferred customer and when I arrived at the dealership I would speak directly to a manager. The manager would work with me to test drive the car and settle on a price.  I was lead to believe I could expect to be in the dealership for 30 minutes to an hour.  With my preferred customer number the dealership had all my information.  What a great way to buy a car, right! Absolutely…if it actually went down like that. 
When I arrived at the dealership, I was quickly moved to work with a salesperson who started to ask me what car I was interested in. He broke out a form and began asking me for my name, phone, address, email etc.  I am a calm and patient person, but this set me off. This person knew nothing about me and it would take 30 minutes to explain what I already shared with the dealership online.  I left the dealership letting them know I was not planning on buying a car from them.  Could you believe 3 days later I received an email from the internet dept. of that dealership asking me if I was still interested in a car. Aah!!!! I was reminded why I don't buy cars often.
Is your business analysis process like buying a car? I hope it is not close.  Your process needs to be customer focused.  I spoke with someone a few weeks ago and her organization was still in a "throw it over the fence" mode.  That fence was so high and thick that she never received a question from the developer and was not even sure what the implemented solution looked like until it was in production.  When she told me, the look on my face had to be saying, "Are you kidding me?"  I assume her business stakeholders felt like me when buying a car.  They shared information with the BA and then when the developer had questions they were probably asked the same types of questions..
At another company they did not throw it over the fence, but they still used a poor version of waterfall. The developers and QA team were not brought in at the beginning of the project.  The BA would review requirements with the tech lead and QA lead that would then estimate the build and test portion of the project.  If the high level estimate was approved developers and QA analysts were assigned.  You think they had questions? Even if the questions were not asked directly to the business stakeholder, their time and money was being spent on a lot of knowledge transfer.  
This extra time and some unnecessary back and forth with your business stakeholders does not help promote the value of Business Analysis.  As the BA you need to raise your hand and demand some change if your project lifecycle is not customer focused.  Your role is to help implement solutions to improve the business area you support.  Always make sure your process is geared towards that goal. 
 Always be easy to deal with,
Kupe