The BA Practice Lead Handbook 13 – Taking your Business Analysis Team from Good to Great
As we look ahead into the next century, leaders will be those who empower others.
Bill Gates
In article 6 of this series, we discussed an approach to building a capable BA workforce able to manage the complexity of your team's project assignments. In this article, we discuss the need for the BA Practice Lead, as well as the BA, to become effective leaders of teams. Your job is all about building and sustaining high-performing teams.
What's the big deal about teams?
Complex projects are challenged today because of people failing to come together with a common vision, an understanding of complexity, and the right expertise. Virtually all work today is accomplished by teams of people. Sometimes teams of teams consisting of groups around the globe. Team leadership is different from traditional management, and teams are different from operational work groups. When leading high-performing, creative teams, it is no longer about command and control; it is rather about collaboration, consensus, empowerment, confidence, and leadership.
What do high-performing teams look like?
When you think of great teams you have observed, what teams come to mind? Perhaps your local professional sports team is the first mental image that emerges. Whatever the sport, high performance is the name of the game. Sometimes, high individual performance is a detriment to the team. Success in the world of professional sports is about team performance.
So, outside of sports, what high performing teams have been a wonder to your eyes? Let's just begin to identify some of them and the nature of their sustained high-performance. We will name just a few. I am certain you could add to this list.
Paramedic Teams
Paramedic teams mean the difference between surviving and succumbing to an overwhelming force. Paramedics provide medical care at an advanced life support level in the pre-hospital environment, usually in an emergency, at the point of illness or injury. This includes an initial assessment, a diagnosis and a treatment plan to manage the patient's particular health crisis. Treatment can also be continued en route to a hospital if more definitive care for the patient is required. Paramedics almost always work in teams of two to four specialists, each fully understanding his role, and how it integrates into the whole approach to assess the degrees of urgency to wounds or illnesses and provide life-saving interventions. It is about the importance of the mission and the team resolve. 
Firefighting teams
I once met a New York City firefighter who had been with his squad for decades. I asked him how he handled such a pressure-filled job. His answer: "I would pay them to let me be a fire fighter." He was talking about the camaraderie, the spirit, the brotherhood, the importance of the mission. Think 911 or Hurricane Katrina.
Non-Governmental Organizations (NGOs)
I have a sister who is heading up an NGO at the United Nations. She mentors interns and high-school age young women and men to become involved in global solutions to problems such as the trafficking of women, the poverty and environmental health issues of communities that are adjacent to coal mines, the basic right of all to have access to clean drinking water. She says she had her dream job. It is about the importance of the mission and collaboration with other world-changing NGOs.
Symphony Orchestras
Today the Boston Symphony Orchestra, Inc., (BSO) presents more than 250 concerts annually. It is an ensemble that has richly fulfilled their vision of a great and permanent orchestra in Boston. BSO has been the scene of almost two hundred American premieres over the last century. From Wilhelm Gericke to James Levine, each conductor of the BSO has created a legacy of new works introduced to BSO audiences. The BSO Archives houses printed programs, press clippings, posters, photographs, administrative files, an extensive collection of radio broadcast tapes of concerts and commercial recordings. It's about musical expertise, cultural and historical contributions, and first-rate performances. 
Heart Transplant/Operating Room Teams
Transplant patients who come to University of Colorado Hospital are often very, very sick. Their survival depends on well-orchestrated care delivered by the transplant team. There have been many historic transplant stories at University of Colorado
Hospital and by the physicians and researchers of the University of Colorado Denver School of Medicine. Among them:
First-ever liver transplant in the world. (1963)
First successful double lung transplant on a cystic fibrosis patient in Colorado.
Colorado's first solitary pancreas transplant to eliminate diabetes in a patient.
First in utero stem cell transplant to save a fetus with a rare blood disorder.
Opened a liver cell bank – one of the first in the country – to further research into new liver transplant procedures.
First living-related liver transplant in Colorado.
First living-related liver transplant on an adult with fulminant liver failure.
Region's first liver transplant from a non-related donor.
One of the first in the nation to perform living-donor transplant surgery.
It's about top-of-their-game medical professionals, superior medicine, a highly-skilled, interdisciplinary team, and progressive, innovative change. 
Navy Seals
And then there are the Navy Seals. Well, they are the Navy Seals, probably the most famous of all great teams.
Navy SEALs are a unique breed of warrior who conduct special operations in any environment, but who are uniquely trained and equipped to operate from, around and in maritime areas. SEALs take their name from the environments in which they are trained to operate: sea, air and land. Their small highly trained teams usually work quietly at night conducting some of the nation's most important missions. SEALs are constantly deployed throughout the world to protect national interests. 
Think Seal Team Six, sometimes referred to as the Special Mission Unit. ST6 is a multi-functional special operations unit with several roles that include high-risk specialized missions. Required entrance skills include combat experience; language skills; and the ability to blend in as civilians during an operation. Members of ST6 are selected in part because of the diversity of skills of each team member. The ST6 training schedule is without comparison in its intensity. Though highly classified, they are renowned for their barely credible, almost fiction-like accomplishments. 
At the top of nearly everyone's list when it comes to innovation, – Apple, Inc. Their products are at the top of nearly everyone's gift list. For them it's about innovation, creating things we don't even know we want or need. From 
ED BAIG OF USA TODAY DECLARES IPAD AIR THE BEST YET AND "BETTER THAN ITS ALREADY BEST OF BREED PREDECESSORS, SUPERIOR STILL TO EACH AND EVERY RIVAL BIG SCREEN SLATE THAT I'VE TESTED. APPLE DOMINATES THE TABLET APPS ECOSYSTEM. ITS TABLET REMAINS THE EASIEST TO USE."
DAMON DARLIN AT THE NEW YORK TIMES WRITES, "COMPARED WITH THE OTHER TABLETS ON THE MARKET, APPLE STILL HOLDS THE EDGE." HE HIGHLIGHTS MANY OF IPAD AIR'S KEY FEATURES INCLUDING SIZE, BATTERY LIFE, PROCESSING POWER, STORAGE, AND WI-FI WITH MIMO.
ON HIS BLOG, DAVID POGUE IS IMPRESSED WITH THE BATTERY LIFE, SPEED, AND DESIGN OF IPAD AIR, STATING, "SOMEHOW, APPLE WAS ABLE TO PUT THE IPAD ON SUCH A RADICAL DIET WITHOUT SACRIFICING ANY OF ITS FEATURES." READ MORE: APPLE.COM/IPAD-AIR
We could go on and on. There are great teams in every walk of life. So, our challenge is to find out what makes some teams good and others great.
What do all great teams have in common?
Let's examine what all of the great teams have in common. To a fault, they all include these elements:
Small but mighty – if the team is too big, members lose their sense of camaraderie and purpose.
Core full-time, co-located leaders – they follow the shared-leadership model, each taking the lead when their knowledge, skills and expertise are needed.
Highly trained and highly practiced – practice, practice, practice!
Diverse, multi-skilled – a high performing team needs a variety of skills, capabilities, talents, cleverness, and the dexterity to understand all of the perspectives of complex situations.
Experienced – there is simply no substitute for experience
Personally accountable – each member holds himself personally responsible and accountable for the success of the mission.
Expertly coached – behind all great teams is an inspiring, loyal, coach who removes all barrier's to the team's success.
Holistic, systems thinkers – great teams see the whole picture and understand how complex teams need to adapt as the environment changes or more is learned.
In addition, great teams understand strategic criticality of the effort, the mission, and the value of their work products. They all have a common set of values and guiding principles. They are passionate about the mission, the work, the results. They keep score and constantly improve their methods, approaches, quality, training, communications, and therefore, results.
What's the big deal about teams?
So how do you take your team of BAs from a good team to a great team?
It's about Capabilities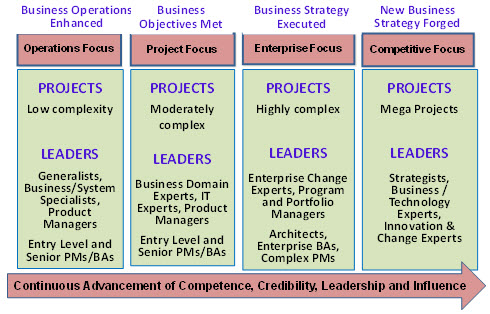 First and foremost, it's about capability. We once again present the capability model below to demonstrate that as project complexity increases, the capability level of the project leadership team must also increase. The model describes how capabilities evolve from technical prowess to leadership, strategy and innovation fortes.
It's About Understanding Complexity
And it's about using complexity thinking to make decisions about building, leading and sustaining high-performing teams. Again, as project become more complex, more sophisticated leadership abilities are required. Studies show that companies can't find the employees they need – critical thinkers with the ability to:
Adapt, invent, re-invent,
Collaborate, create, innovate, and
Leverage complexity to bring about innovation.
Traditional project jobs are changing:
Typical tasks are being automated and commoditized.
The critical Business Analysis focus is now on strategy, innovation, value to the customer and wealth to the bottom line vs. requirements management.
The critical Project Manager focus is now on complexity management vs. project management.
So, use complexity thinking when making critical project leadership assignments, as depicted in the diagram below.
Use Complexity Thinking to Make Project Leadership Assignments.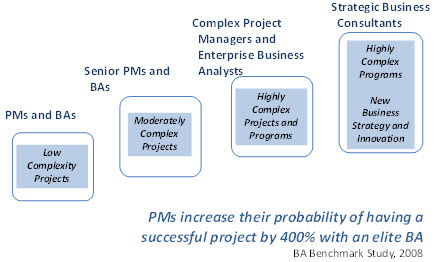 It's About Filling the Gaps in Capabilities
The graph below demonstrates the typical gap in capabilities when dealing with complexity. We re-introduce the diagram below to depict the findings from the ground breaking research study, The Bottom Line on Project Complexity, the results of which were presented at the PMI Global Congress 2010 North America. The study correlated the current state of BA practice maturity with project complexity and project outcomes.
The industries represented in the study were Insurance (Ins), Financial Services (FS), Information Technology (IS/IT), Government and Non Profit (NP), Health Care (HC), and Transportation (Trans). The diamonds represent the typical complexity level of projects within the industry. The research findings indicate that the average BA maturity level for these industries is 1.68 as represented by the black horizontal line in the diagram. But the complexity of projects mostly fell at level 3, highly complex projects. Therefore, there is a gap between the complexity level of most projects and capability levels of BA practitioners working on the projects. The BAs were also asked to predict the probable outcome of their projects in terms of budget, schedule, and scope (BSS in lower right). The diamonds are color coded to represent the degree of challenge the BAs predicted will be evident at the end of the projects.
Assuming that these research findings are relevant to your current BA team, it is imperative that you take action to close the gap in your BA team capabilities. If you are unable to do so, it is likely that two thirds of your current highly-complex projects will fail or be challenged for meeting BSS (CHAOS Report 2011, The Standish Group).
It's About Filling the Gap between Project Complexity and our Capabilities
Putting it all Together
So what does this mean for the Business Analyst?
For BAs, continually learn about great teams and effective team leadership. Strive collaborate with the other project leaders (the PM, the architect, the lead developer, the business visionary) to take your current project team from a good, capable group to a great, high-performing team.
So what does this mean for the BA Practice Lead?
For both the BA and the BA Practice Lead, reference Chapter 5: Fostering Team Creativity – the Business Analyst's Sweet Spot of the book entitled The Enterprise Business Analyst by this author. If you do not have the book on your shelf, you can access it through the IIBA e-library if you are an IIBA member. It provides a more in-depth discussion of building and sustaining high-performing teams. Topics include:
Effective Teams
The Power of Teams
Team Development Through Stages
Team Leadership Styles Through Stages
Best Team Practices for the Business Analyst
Creativity – A Right Brain Pursuit
Everyone is Creative
Getting There – From ad hoc Group to Working Group to Creative Team
The Business Analyst as Innovator
Becoming a Creative Force
The Innovation Imperative
Innovation is a Team 
Putting it All Together: What Does This Mean to the Business Analyst
Don't forget to leave your comments below.