The BA Practice Lead Handbook 7 – What is the Current State of Your BA Practices? And How do you Close the Gaps?
Along with a team of capable, credible business analysts, a successful BA Practice requires effective, lean methods and tools to complete the implementation phase of the BA Practice Framework introduced in earlier articles, (see article #3, So you want to be a BA Practice Lead? OMG: What have you Gotten Yourself into?
The BA Practice Framework
Step 1: Assess the Maturity of your BA Practice Standards
To determine the current state of your BA Practice maturity, conduct an assessment of the BA methods and tools that are prevalent in your organization today so that you can build from your current foundation. In article #6 in this series, we advised the BA Practice Lead to build a capable BA workforce by determining the complexity of current and future projects, and staff BAs accordingly. So at this point you should have a number of BAs capable of performing projects at the levels of complexity: (1) low complexity, (2) moderately complex and (3) highly complex projects. Perhaps your organization is also needing BAs who can perform at the highest level, (4) highly complex program/mega project level. If so, you have or are recruiting BAs capable of performing at these levels. Please refer to article #6 in this series, Will the Real Business Analysts Please Stand Up? – Build a Capable BA Team, to review the project complexity model and the BA Workforce Capability Model and the skills needed to perform at each level of complexity.
The next step is to determine what practices are currently in use by your BA team, both formal and informal practices. Ask your team of BAs to work together to document all of the practices they are using or have used to perform their work for each of the four project types, including:
BA methods, processes, procedures
BA requirements management tools, templates, job aids
BA manager tools, templates, oversight process
In addition, assess the following:
BA acceptance by PMs, Developers, Architects, Customers, Managers, other key stakeholders
BA measures of success and incentives
BA training programs
BA formal HR structures: roles, career path, pay scale (as compared to industry salary surveys)
It is helpful to use a BA Maturity Model similar to the one presented here to perform this assessment. The model is structured into four levels.
The BA practices required for each level are described below. Feel free to use this matrix as a checklist to help your BA team conduct their assessment.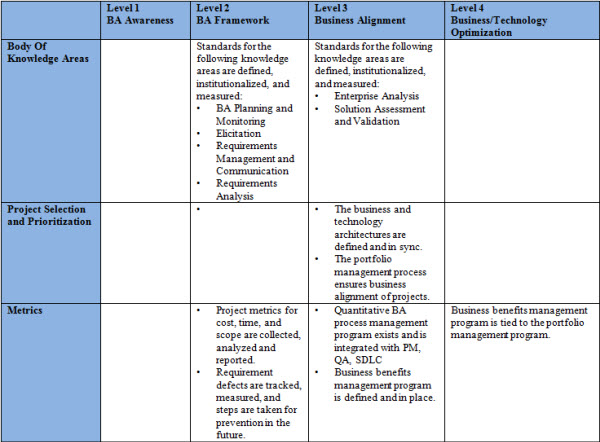 Step 2: Develop a 2-year roadmap and 12-month plan to Close Gaps in BA Practices
Along with your BA team, develop a roadmap to refine/adopt/develop practices that are missing from your practice. Move from left to right on the BA Practice Maturity Model. Once your plan has been created (remember, lean, just enough investment in BA deliverables):
Update BA Practice Business Case with new information learned from the assessment (See article #3)

Gain consensus and approval for the budget and resources to implement the 2-year roadmap and 12-month plan to close gaps in BA practices
Putting it all Together
So what does this mean for the Business Analyst?
As a capable BA, you need to have some standard tools in your arsenal. It is important to change your methods, style, and facilitation techniques as you grow along the capability levels. Low complexity projects require low complexity BA deliverables. Always use business language, vs. technical IT jargon. Use simple models, drawings, charts and graphs whenever possible to bring the requirements into view.
So what does this mean for the BA Practice Lead?
Use the experience and talent of your BA team to develop and improve BA deliverables. Resist the temptation to assign one staff person to develop all the BA standards. This approach rarely works, and will lead to disarray, lack of ownership on the part of your BA team, and therefore, lack of use of the standards.
Don't forget to leave your comments below.