The Key to Success is MEASUREMENT
"Every line is the perfect length if you don't measure it."
Marty Rubin ― 
On Saturday June 14th I will be competing in the 7th Annual Paddle for a Cause to raise money for cancer patients via the Dean Randazzo Cancer Foundation. The race is a 22.5 miles around Absecon Island through the back bays, inlets and ocean. If the race could be boiled down to just one word it would be—grueling. It was designed that way to reflect the fight against cancer. The Stand UP (SUP) Paddleboard race is so demanding that you have to commit to a strict training schedule or you simply will not finish. For those who do finish, it takes over five hours to complete and the time is chock full of physical and psychological challenge.
When training for the race you have to measure everything. Your stroke count, your fluid intake, your sleep, the tides, the winds, the weather patterns, the air temperature and the ocean conditions. It can be a highly dynamic task. The measurement tools of this trade are predominantly a Garmin watch which allows you to set and record various parameters as well as a good friend who will keep your stroke rate honest after two hours of hard paddling. In the figure below you can see a snapshot of one of my recent training sessions and the parameters that we (me, my Garmin and my trusty friend) recorded.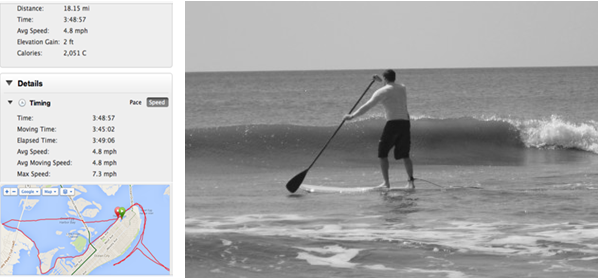 The quantified self-movement takes on a whole new meaning when you are three hours into a "grueling" paddle, especially when you are alone (without the friend this time) and nearly two miles off the coast. It is at that moment when you not only realize how critical the training measurements and tools really are, but you also truly understand the value of the metrics as it relates to the leading and lagging indicators in relation to your performance (and to their ability to bring you back to shore).
For example, the metrics tell you were you are in the present, the lagging indicators tell you where you were in the past and the leading indicators tell you where you will be in the future. So, if I want to look at my present performance, I would read the metric for distance paddled. If I want to see how my performance has been since the start of the race, I would look at the lagging indicator which would be my average speed. If I want to know where I will end up in the future, I would look at a leading indicator which would be my current pace in terms of miles per hour.
The point is this: The key to any success is MEASUREMENT. It shows you where you have been, where you are now, and where you have the potential to go tomorrow.
Business leaders are no different than Stand UP Paddle athletes. Once you sift through all the noise (weather, rough surf, market dynamics, competitive landscape), there is always one thing that can be counted on and this is our ability to measure the right things at the right time. Measurement done right is one of the highest leverage activities any individual or organization can perform and the single greatest asset in driving improved performance. Find any successful athlete or business person and you will find someone who has mastered measurement.
To test the power of this assertion, pick one habit that you want to change and really start to measure it. Place a defined metric against the habit and then track your results. For example, if you want to walk 10 miles per week, write the number of miles walked on your sneakers after each workout. If you want to improve your project performance, start with something simple like measuring the amount and the average duration of open action items. Another key point to remember when selecting a metric is that you want to utilize the "measurement" for the purpose of improvement— not to make judgments or to prove a point. Measurements that are property selected and executed can truly optimize efficiency and create positive performance for everyone involved.
When I make my 22.5 mile paddle around Absecon Island in a couple of weeks, I will be relying on my training— my methodical measurements over time— to bolster my confidence and to sustain me through tough seas.
Don't forget to leave your comments below.