Published on November 7, 2019
If you're just starting your career as a Business Analyst (BA),
knowing the usual types of interview questions can help you prepare to impress your potential employers.
After all, knowing the possible interview questions will help you prepare the right answers that will make you stand out from other candidates who are vying for the same position.
Although the requirements for Business Analyst positions vary depending on the company, there are a set of common questions that you're most likely to hear in every interview.
These questions could range from a simple "Why a career in Business Analysis?" to more in-depth queries, like the kind of tools you use, so the more familiar you are with these questions, the better equipped you'll be to ace your interviews.
To aid you on how to do just that, here are four Business Analyst interview questions and possible answers to help you prepare to leave a positive impression on your prospective companies.
Question 1. What Is The Role Of A Business Analyst In A Company?
As a business analyst, you play a crucial role in guiding businesses to improve their products, services, software, and processes through data analysis.
Plus, you can bridge the gap between IT and your employers to help boost efficiency and translate data into useful and actionable insights.
As such, you'll need to emphasize the specific roles of business analysts. If you have experience in the field, discuss some of your previous functions with your interviewers.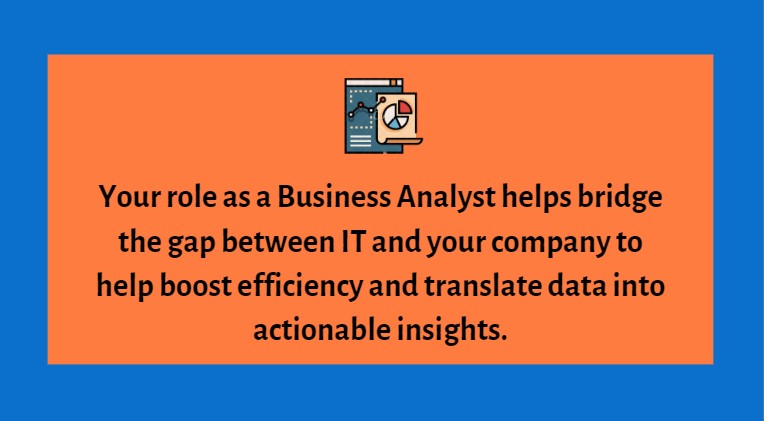 Here are some of the things you can consider to help you discuss the roles of a BA.
Business analysts can take on specific roles within a company project such as System Analyst, Application Designer, Business Planner, Technical Architect, Data Analyst, etc.
If you've played these specific roles in the past, expound on what you did and the solutions you came up with.
The job of a BA will vary based on the requirements of your potential employer – some BA roles may be limited to IT projects, with a few extending to marketing, accounting, finance, and more.
Your primary role as a BA is to help determine the needs of your company, uncover the problems – including using predictive technology to predict future issues (to some extent) – and come up with business solutions.
Aside from technical skills, your role as a BA will require you to have a good grasp on engineering concepts, possess leadership qualities, and excellent communication skills.
Question 2. What Are The Crucial Tools For Business Analysis?
There is a wide array of tools and software that business analysts use to perform several functions required of the role.
With that said, interviewers will ask you what the crucial tools are for business analysis so they'll know which ones you're proficient in and what you can bring to their company.
If you are proficient with tools like MS Office, Structured Query Language (SQL), Blueprint, programming languages such as Python and R, Tableau, and more, bring them up during the interview.
Most interviewers will also ask you outrightly about the tools and the training you are certified in, but instead of going through the whole list, bring to focus a few of your most recent ones.
For instance, if you have undergone a CBAP certification training course, then discuss how it has enhanced your skills and how you can apply it to your prospective company.
Doing so helps give your potential employers an idea about your skills and proficiency, and whether or not you already have what they need or if they need to train you for specific tools.
Advertisement

Question 3. How Do You Handle Difficult Stakeholders?
Remember that being a Business Analyst means coming up with solutions, but you'll also need to prepare for the possibility when your proposed solutions are met with resistance.
Many factors can contribute to this, but among the rest, human factors like – difficult stakeholders – might be one of the most challenging to handle.
Your potential employers will want to know how you can manage this type of situation since it is bound to happen in every company.
You won't need to provide an entire outline of your answers during your actual interview, but keep these few points in mind when formulating your possible responses.
Spot your "difficult" stakeholders from the group, listen to what they have to say, and exercise a significant amount of patience.
If you cut them off or be impolite towards them, it will only lead to misunderstandings, and that will not help you resolve any of your issues.
Some stakeholders are difficult because they are not comfortable with some of the things in your project. So take the time to dig deeper into their issues by listening to what they say and answering any questions they might have.
As much as possible, meet and discuss with your difficult stakeholders personally as a way of showing them that you are committed to working towards the same goal with them.
Continuously engaging your difficult stakeholders helps them understand that their contribution is valuable to your project. Their resistance could also stem from valid points of view, so it's crucial that you don't just dismiss their opinions.
Keep in mind that there are no perfect answers, but being prepared for possible questions like this will always help you have concrete responses.
Question 4.  Do You Have Any Questions For Me?
Asking tons of questions comes with the job of being a Business Analyst, and one of the best places to demonstrate your ability to ask relevant and insightful questions is during your interview.
This part of the interview that you can turn into a conversation by asking questions about the company, its processes, and more.
Aside from demonstrating your abilities, asking relevant questions also shows your potential employers your interest in their company, which can only help increase your chances of getting the job.
Here are a few questions that you can ask your interviewers.
"How does your company handle systems analysis, and do you have a dedicated systems analyst?"
There are companies with job postings for BAs when what they really want is a Systems Analyst/BA, so it's best to clarify this ahead if this is not the type of role you would like to fulfill.
"Which project phases are your BAs involved with?"
If your interviewer says that business analysts are only involved in requirements, then the company might be looking for a Requirement Analyst specialist.
This might not suit you if you want to perform a deeper and wider BA role, so you should get this out of the way during the interview.
"Does your company have a central BA team, or does each function have its own BA team?"
Asking this question will help you determine whether or not there is a central team that will allow the pooling of knowledge.
Bottomline
There might not be perfect answers to your business analyst interview questions, but being prepared by learning the possible responses will help equip you for the big day.
Remember that being a business analyst means solving problems, and your interview Q&A is the first obstacle you need to overcome in a long list of challenges coming your way in a BA career.
Also Read: Business Analyst Manager Interview Questions
Did you learn something from this post? Please share this with your network if you agree. Cheers!