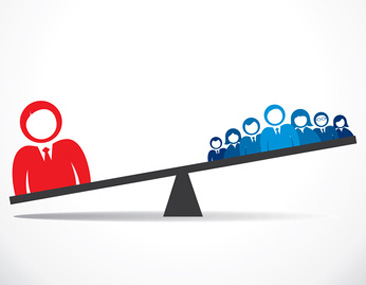 "The hottest job in IT right now might be the least "T" of them all: business analyst". Computerworld Tech hotshots: The rise of the IT business analyst By Michael Fitzgerald July 11, 2012

I have been a Business Analyst for almost sixteen years of my twenty six years of professional life however I have only known what to call myself for the last nine years; a Business Analyst! During my career I have been referred to as a management consultant or IT consultant but both these roles use skills, knowledge and competencies of the Enterprise/Strategic Business Analyst which is a new role that has emerged out of the International Institute Business Analysis IIBA® Competency Model in 2011.
At the company I work for we have been helping more and more companies to think about "why" we doing an initiative or project instead of just doing something that provides little or no value to an organization. 
Recently my company was engaged to analyze a cash handling business process after an audit report raised concerns over staff counting cash. In our first executive stakeholder meeting we asked the question "Why are you still using such a large volume of cash transactions, when your customers are used to credit cards and the organization was already using an internal customer card which held monetary credits and if marketed correctly would encourage return patronage?". Pretty quickly we understood that the better solution was to reduce the use of cash rather than reengineering the cash process.
Another client wanted to implement a bar scanner into a warehouse to check stock in and out. After completing an analysis of the stock it was discovered that over 40% of stock had no barcode and would therefore need to be bar-coded. Of the 60% that had a barcode 20% was sold as individual items i.e. box 24 items, which needed to be unpacked before a barcode could be added. We asked the client how many warehouse staff were currently employed and if they could handle the additional workload needed to barcode. The answer was no and it was estimated that an additional 2 staff would needed to be employed. We determined that the Return on Investment (ROI) would be negative and that as a strategy adding a barcode scanner into a warehouse would not be an advantage with the amount of unpacking and bar-coding required. Although this consultancy sale did not proceed our business analysis resulted in the client making the decision not to implement a barcode scanner (the right business outcome) and we were happy we didn't work on something with little purpose or value to the client.
In yet another example of the value of a business analyst one of our clients sought a solution to manage the approval processes and associated documentation for a number of major energy capital projects (projects up to $100 million in value). My company performed the business process automation analysis, mapped the future state processes, and elicited the business and functional requirements through a series of stakeholder workshops utilising aspects of our method, and customised templates, which aligned with the Business Analysis Body of Knowledge (BABoK®). Based on these documented processes and requirements an automated workflow solution was developed. This process automation solution delivered: increased consistency of approval processes; an automated audit trail for the approvals; a reduced incidence of approval related documentation being misplaced or lost; a reliable mechanism for staff to determine the status of payment requests and payments; reduced time and resource wastage on printing and manual approvals; and reduced physical file storage. A key outcome of the project was the minimisation of approval delays, which reduced the external contract resources required for approval processes. The savings due to the reduction of external contractors during the first 6 months after the automated workflow solution was implemented paid for the cost of developing the solution.
Until recently the role Business Analyst (BA) was loosely defined and the activity, tasks & techniques used varied from organisation to organization. However, with the release of the BABOK in 2006 by the IIBA® the BA role has been defined within the knowledge areas providing an international standard for this beneficial role.
Definition of Business Analysis
IIBA® – "Business analysis is the set of tasks and techniques used to work as a liaison among stakeholders in order to understand the structure, policies, and operations of an organization, and to recommend solutions that enable the organization to achieve its goals".
Definition of a Business Analyst
IIBA® – "Business analysts must analyze and synthesize information provided by a large number of people who interact with the business, such as customers, staff, IT professionals, and executives. The business analyst is responsible for eliciting the actual needs of stakeholders, not simply their expressed desires. In many cases, the business analyst will also work to facilitate communication between organizational units. In particular, business analysts often play a central role in aligning the needs of business units with the capabilities delivered by information technology, and may serve as a "translator" between those groups".
In summary a business analyst is a role, that involves working with key stakeholders to elicit requirements to enable the delivery of solutions to achieve the organizations goals and objectives i.e. deliver services and/or products. The solutions provided maybe Information Technology (IT) related, non-IT related or could be process improvement.

Business Analysts may range in levels from people starting out in the role to highly skilled people with 15+ years experience. In the past it was often thought that the role of the BA was just a stepping stone towards a Project Manager or Architect however we have seen in the last few years the development of a career path from entry level BA through to an experienced BA and even to CIO or CEO.

John Simpson in his article "Why on Earth Would You Promote a Business Analyst" talks about a Chief Business Analyst "By championing the development of thousands of well-written requirements and collaboratively managing them throughout your innovation process, your staff of business analysts significantly impact the performance of your company every day. And, that makes them a strategic asset."

Either way the role of a "high performing" business analyst will be more and more valued in the future as organisations continually look to be more innovative to survive and prosper.
Don't forget to leave your comments below.