The International Institute of Business Analysis (IIBA) is a professional association formed in October 2003 with the stated goal of supporting and promoting the discipline of business analysis. In another word, IIBA is the professional body for business analysts.
IIBA is providing many types of certifications and they all have their own benefits. In the past 10 years, I have experienced various occasions where, either myself or people I know, have achieved great and tangible career results thanks to certain IIBA certifications.
Here are 3 stories with 3 IIBA certifications, which apparently do not represent all the useful certifications that IIBA provides. However, I believe you will get a strong message why you may want to become a certified business analyst.
Story 1: A university graduate
A promising young talent was about to graduate from university. She had equipped her resume well with IT & BA courses, project-based-learning initiatives, internships and workplace experiences. However, based on her job seeking experiences, she had an impression that sometimes she was perceived by potential employers as "indifferent" to other university graduates.
She was determined to make a difference in job applications. The action she had done was to have obtained the ECBA (Entry Certificate in Business Analysis) certification, which was then added as a highlight to her resume and used in job applications.

In a final round interview, she successfully stood out by saying "I have been certified in the same (IIBA) framework as experienced BA's use", while other candidates claiming, "I am a quick learner".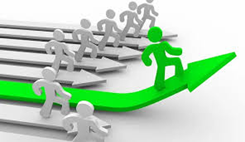 I'm sure you will also be empowered by the story if you are currently looking to transition your career towards a business analyst role.
Advertisement

Story 2: A 2nd year Junior BA
A young IT professional completed her 2nd year of work anniversary in an IT consulting firm as a junior business analyst. Although she progressed a lot in BA competencies and demonstrated consistent work performance, it was frustrating that a lot of people in the company, including her manager, still saw her as "that Junior BA".
She decided to remind her manager in a polite yet effective way. Weeks before the annual performance review (a.k.a., salary review), she had completed her CCBA (Certification of Capability in Business Analysis).

In the performance review meeting, she showcased the details her outperformance, coupled with her CCBA certification and the techniques she had acquired from the study of CCBA. At the end of the meeting, she asked for a promotion to Intermediate BA. She got the good news soon after.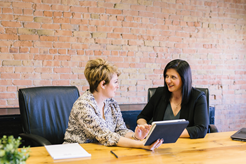 Story 3: A Senior BA who wants to change industry
A senior BA got 10 years' BA experience. He was always in the telecommunications industry but now wants to pursue a career in the financial service industry. He had a few interviews, but all ended up not well. The typical feedback he had received was "solid BA but lack of domain experience". He took the advice from others to study towards CBAP (Certified Business Analysis Professional).

After being CBAP certified, he was invited to an interview with a local bank. He made a point to the interview panel that "BA skills are transferable across industries" and outlined his BA expertise that had been certified via CBAP and that would add value to the bank immediately. After a week he got a phone call from the hiring manager asking for referees.
Summary: ECBA/CCBA/CBAP Comparison Table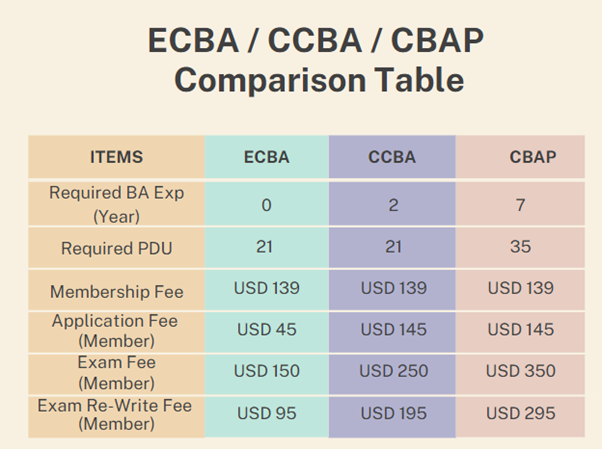 Reference:
IIBA Certifications, https://www.iiba.org/business-analysis-certifications/iiba-certifications/