Best of BATimes: 10 Steps to Transition from Your Current Job to an Amazing BA Career
Over the years, professionals wanting to pursue a career in business analysis have been seeking my advice.
A few of the questions posed to me:
"How do I launch my career as a business analyst?"
"How do I switch over to BA role? "
"Is it possible to move to a business analyst position for someone working as a sales engineer?"
"Is it possible to become a business analyst without having BA experience?"
"How can I take up a career as a business analyst? I am currently working in freight forwarding and operations."
"I'm working as a software developer since last 3 years and planning to change my career to be a business analyst. Where should I start from?"
"Can I become a business analyst after BBA?"
My response to them is that in the field of business analysis, business experience, no matter how inconsequential it may seem, counts. This is because Business Analysis is not restricted to a particular field but in most cases, cuts across diverse fields.
If you are a self-motivated professional with strong analytical skill, have excellent written and verbal communication skills plus the ability to work well with employees at all levels of an organization, a business analyst position is a great fit for you.
Business Analysis is one of the fastest-growing professions with an all-time high growth rate of 14%, while the average growth of any profession is 5%, as per the US Bureau of labor statistics.
Here's a data insight from SEEK on the job opportunities for BAs and how the job market is trending: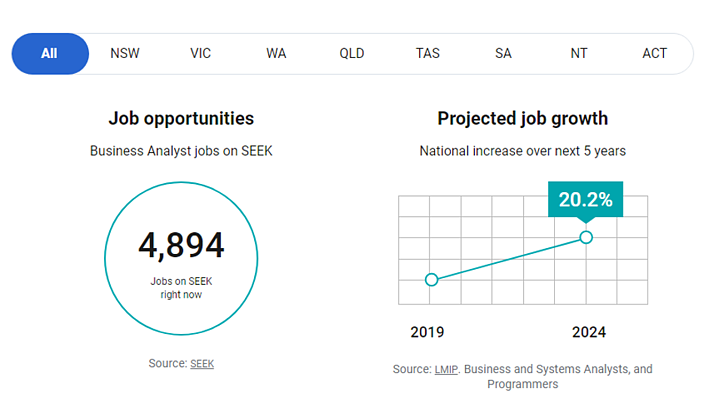 Business Analysis is a career which is filled with a good balance and proportion of leadership skills along with technology exposure. It makes one step out of their comfort zone and realize their full potential while performing the role. It's challenging as well as rewarding at the same time. This is one of the careers that puts one to a High Growth Path Leading to a C Suite Role.
Business Analyst is a role where one can contribute to the organization's strategy, its offerings, its revenue, and its margin. A 'Business Analyst' helps the business to grow and become more efficient, organized, and more successful.
Business analysts, understand the problems and goals of an enterprise, analyze needs and solutions, devise change strategies, drive change, collaborate with stakeholders and also advise organizations on improving efficiency, finances, and various other aspects of business.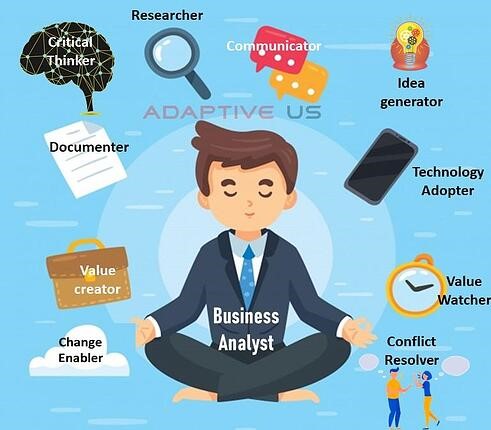 A business analyst works in a multifaceted world. In order to meet all the business needs a business analyst has to act as a mediator, moderator, facilitator, connector, and ambassador. They are the bridge that fills in the gap between each department throughout every step of development. Business analysts must be great verbal and written communicators, tactful diplomats, problem solvers, thinkers, and analyzers – with the ability to engage with stakeholders to understand and respond to their needs in rapidly changing business environments.
In short, a BA is the backbone of the growth and advancement of the organization.
The image below talks about a few professions from where it is easier to foray into the business analyst profession.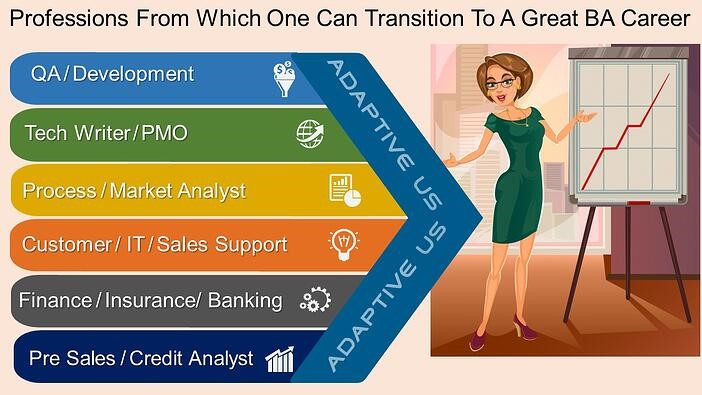 Having said this, crossing over to the land of business analysis demands you to learn and hone new skills and tools.
So, here are some steps, that will help a professional to carve the path to a successful and rewarding business analysis career
1. Learn the basics of business
The very first step to understand is how businesses run and what they do. One also needs to have a good background of the various functions of the organization and how directly/indirectly serve the internal as well as external customers. A good starting point would be to go through the generic process classification framework provided by APQC. You can download the free personal version of the APQC process classification framework from the APQC. It also would be a good idea to read up basic books on business strategy, marketing, finance, HR, and operations.
Advertisement

2. Learn the business analysis process
Like any other activity, Business Analysis also follows a process. The best resource, which is available free, is the Business Analysis Core Standard from IIBA. It is a fairly short document of about 50 pages but is very informative. It will give you a good idea about how business analysis is actually performed.
3. Develop behavioral skills
As a business analyst, one must learn how to interact with a sponsor, Domain SME, End users, and all other business-side stakeholders including suppliers. This requires honing one's skills in behavioral aspects. Key skills for business analysis are communication, stakeholder interaction, active listening skills, facilitation, conflict resolution, creative thinking, etc.
Behavioral skills are very essential for a BA and the best way to hone these skills is to practice it extensively.
4. Learn requirements modeling tools and management tools
Business analysts use many tools as part of their work. Some of the popular tools are business process modeling, state modeling, and use case modeling. Download the trial version of Microsoft Visio. This tool is very popular with most organizations. You can also learn other free tools such as Lucid chart, BizAgi Business process modeler.
Here's an opportunity to access BA books and tools to practice- https://www.adaptiveus.com/adaptive-inner-circle/.
Image curtsey: MCAL Global
5. Learn the domain of the organization/domain of your interest
There are good resources available on the internet almost on all domains and maybe within your own organization. Another good advice we suggest is to look for a handbook on your domain. For example, if you are in the retail domain, look for a book by the name Handbook of retail. Go through the handbook, you will get a fairly good idea about how retail domain functions. When you understand your domain and you understand your organization, your stakeholders' acceptance for you as a business analyst will increase manifold.
6. Participate in professional groups, conferences on business analysis
There are many professional groups, virtual and physical conferences on business analysis. Participate in these events to understand how business analysis is changing, what are the trends in business analysis and how you can bring new business analysis concepts to your organization.
Become an IIBA member, join their events, volunteer for the local events and chapters. This not only opens new doors for you but also expands your professional network and experience.
7. Use stepping stones: Explore roles which are gateways to business analysis
Find mid-position careers between your current job and the job of a business analyst. Roles such as business process analyst, reporting analyst, customer support analyst – such roles teach you certain aspects of business and make you ready to be BA. Keep taking small jumps – in a few years, you will find yourself in your dream role.
8. Get yourself certified
Along with a degree and experience, getting a Business Analyst certification carries a lot of weight with organizations and also helps the candidate to acquire the requisite knowledge and meet their professional goal. Certification can improve overall performance, remove uncertainty, and widen market opportunities. A certified business analyst has a broader perspective of the BA techniques and approaches. It also shows commitment, as preparing for these certifications and clearing the exam is not an easy task. Organizations also recognize individuals for the hard work and commitment which the candidate has put into it.
For those who are making a foray into the business analysis domain, ECBA certification from IIBA is a good choice. ECBA not only gives a rock-solid foundation for getting into the BA profession but also helps with global certification. The ECBA certification does not call for any eligibility criteria in terms of education and covers aspects related to requirements elicitation, requirements analysis, and management, stakeholder management, techniques used by BAs, etc.
It is strongly recommended that you undergo proper training from a seasoned BA coach. This will help increase your chances of passing in the very first attempt and in the shortest possible time. My organization Adaptive US (adaptiveus.com) is an EEP with IIBA and has helped scores of professionals get ECBA certified and step into a successful BA career.
For more details- ECBA Training
9. Start from within your organization
Upon completing the training and certification, you can utilize your newfound learning and experience in your industry/domain to start looking for opportunities within your current organization.
The first thing to do will be to look for possibilities for an internal transfer. Discuss your career goals with your manager and seek opportunities to practice BA skills/techniques. Show interest, gather knowledge, and be proactively involved in the requirements gathering and documentation process. Shadowing the business analyst for a particular project in your organization would allow you to practice the concepts that you have learned.
If finding an opportunity with the current organization is not possible, you could update your resume accordingly to highlight your 'functional knowledge' in your industry/domain, along with your certification details. Showcase how your past experience qualifies you for business analysis roles and how your profile is enhanced with the ECBA training and certification you have completed.
10. Learn to network and leverage it
If you wish to climb higher in your career, you need the right push. Sometimes, this push comes from those you are surrounded with. Surround yourself with like-minded people who are experts or passionate about their BA jobs, learn from their experiences, share your thoughts and ideas, identify opportunities and devise strategies on how you can advance in your career.
Many times, we are limited by our mindset and comfort zone to switch careers, which prevents us from utilizing our full potential. Our minds get overwhelmed with "What-ifs" and we stay stuck in situations, which we want to overcome. However, there have been professionals who have shown the grit to change, took action in the right direction, and worked their way to reach where they wanted to. What is inspiring is that they have been very successful too.
A good business analyst is one of the best assets that an organization can have. Having a good and competent BA in the organization is like finding a pot of gold at the end of a rainbow.
So, plan ahead, learn & hone the skills needed and forge your way ahead with one of the fastest-growing and exciting professions.
Published on: 2020/11/04
---
Ananya Pani
I am an entrepreneur, building my brand to be a global name in the Business Analysis domain. My mission is to help business analysts to build a successful professional career. I have helped 2000+ BAs in choosing a better career and help them achieve professional success. I co-founded Adaptive US, a Business analysis skill development organization. I manage sales and operations at Adaptive US. Under my leadership, Adaptive is now established as a world-leader.
---