The Best Self-Service BI Tools for 2019.
Over the past few years, evolution has been taking place in the field of analytics and business intelligence.
As it continuously evolving over the time, some functions and self-service data exposes data and new technologies directly into people seeking for this data. Thereby it's creating an environment where both IT and business users use it more collectively.
It is a well known fact that In recent years, BI technology has been turned upside down. Due to massive data, which leads to the adoption of spreadsheets and cloud computing for creating interactive dashboards and data visualization.
Self-service BI tools democratized the data reporting products to the world. These tools enables users to collect, integrate, and present organization's data in a manner that produces actionable insights. The leading BI tools include Qlik Sense, Tableau, ZOHO, and others creating their mark in handle massive amounts of data in an effective manner. In addition to users, several professionals are choosing to acquire a Qlikview certification. Which takes their role to next level in the organization.
As per the latest report, if you are not merging BI insights and cloud analytics in your organization, it is missing out. Evolution of business intelligence and Microsoft helps you explore business intelligence to save millions of dollars on investing in new software, hardware and service.
Business Intelligence
Business Intelligence is a function of business that collects the data, and also it performs functions like managing, processing, to make it useful for taking the more informed decisions. Business intelligence systems are data-driven Decision Support System(DSS), and sometimes it is used as interchangeably with reports, query tools, briefing books and executive information system.
Importance of Business intelligence(BI)
Business intelligence systems provide current, historical and predictive views of business operation. Most organizations using data that has been collected from the data mart or data warehouse. The BI software support visualization, reporting, slice and dices interactive, pivot-table analyses, Application tackle sale, finance, production, statical data mining, etc. for business performance management.
Image Credits: Techtarget
Self-Service Business intelligence
In the early '80s and '90s, Business intelligence platforms are very complex, IT employees had bits of help to data analysts by writing SQL queries and custom scripts for creating the custom data reports. At that point of time BI was in control of IT because traditional BI stores data in warehouses dedicated database system for business data.
Self-service business intelligence tools have entered the market to help the users in developing their own data analysis model without the involvement of IT or developers. It allows the analyst to have a better knowledge of their company using BI without having any technical skills.
Why choose self-service BI
Generally, in many companies, business intelligence is based on data warehouse or in central deployed data marts. Many companies believe that data warehousing methods, software solutions, and architectures and considered these are the best for a long time and now these turned insufficient to meet the requirements of today's organizations requirements.
With self-service BI tools business departments have access the data and information on demand. To sustain in this competitive business world, companies need to respond as early as possible on new insights extracted from analytics. Below are the reasons why companies are looking towards the self-service business intelligence tools.
• Faster
• Less cost
• More control
• Less functional
• More autonomy and independence
• High flexibility
---
Advertisement

---
List of self-service BI Tools
How can we choose a self-service BI tool? Mostly, we prefer the tool which is best fit for our company, both from the IT infrastructure and end users. Does the Business intelligence platform match the skills of the users who will use it? Can our employees learn and use it efficiently? Does it create data analysts jobs easier or it makes more barriers than destroy? Can we share our data and analysis to anyone in the company or only with licensed persons? And it can read all our external and internal data?
With the all above considerations in mind, let's explore the best market leading self-service BI Tools.
1. Tableau Desktop
Tableau desktop is one of the leading BI tools that allows users to have a clear understanding and view of their required data irrespective of their format and type providing quick results without any programming required. It is very easy to understand and can take the required insights according to their organizational needs.
Tableau desktop can support all types of data and the ability to connect the massive volumes of information. To generate the reports, it requires a high-quality network configuration in connecting server database. Otherwise it will provide a remarkable latency in the construction of the report.
2. ZOHO REPORTS
Zoho reports is mainly used for administrators and CRM managers who want the bottom of things. It is one of the powerful self-service business intelligence tools, not only connects Zoho apps but also connects the cloud-accessible database and its available to all type of users.
In Zoho reports, data should not be exceeded and limited customisation available for constructing the variable types of reports. It is the best option for general business user's and requires no knowledge to handle it.
3. SISENSE
Sisense software is designed for all sizes of companies that allows to visualise and analyse different volume data sets instantaneously. The main advantage of Sisense software is that it simplifies complex data regarding analysis, preparation and visualisation, provides enormous power to business by avoiding the complicated IT investments and cost.
4. POWER BI
Power BI is an interactive data visualisation tool to handle data without any technical knowledge. It's reporting system securely compares other self-service BI tools. Power BI is in continuous evolution to meet the ever changing market needs. Some users would not like to work on the cloud; unfortunately, there is no On-premise version for Power BI tool. Sometimes it became an inconvenience to companies acquiring this solution.
5. QLIK SENSE
Qlik Sense is a data recovery tool, while in the creation of dashboards it offers a great simplicity and flexibility by easy drag-and-drop. In Qlik Sense there is no need for complex queries or complex SQL scripts or joins to render its data. The main advantage of this tool is the ability to integrate major graphical graphs through the Qlik Sense user community.
Qlik Sense 2.0 is well suitable for interactive analysis and data discovery. It can connect any SQL database virtually and offers a better deal on control over visualisations. Importing data from BI is a messy task. Qlik Sense tries to connect named fields in multiple tables and compares the data then makes recommendations from similar kind of data fields; this is called Smart Data Load. However it is not easy to use, learn, and it is not much flexible like Tableau during the presentation of visualisations.
6. DOMO
Domo is a cloud-based BI tool that combines a large number of data connectors, a unified data store, reports, integrated social media, ETL system and a large number of visualisations. It claims to be more than a BI tool because it's a social media tool can lead to an "Actionable Insights", but in real time every BI tool leads to actionable insights that benefit the business.
Domo is a perfect BI system, and it supports for chart types, data sources and social media features. The usage and learning of Domo are decidedly harder than Tableau, Power BI, Qlik Sense, Quick Sight. Depending on your business needs, Qlik Sense, Power BI or Tableau are a better choice than Domo.
7. QUICK SIGHT
Quick Sight is the Amazon BI tool runs entirely in AWS cloud, it has excellent access to Amazon data sources and also for other data sources. It offers data manipulation and elemental analysis at a basic price. Quick sight is same as Power BI tool, but it not only depends on desktop to create data sets. Many data sources have been hosted on AWS it needs limited analysis, limited development time. It offers easy visualisation and analysis capabilities at a reasonable cost.
8. DUNDAS
Dundas is a browser-based self-service business intelligence tool and also a data visualisation platform that includes the reporting tools, data analytics and integrated dashboards. It provides more freedom to end users in dashboard creation, reports preparation, and data analysing.
Dundas BI tool offers more flexibility to users to connect and integrate the data fields in real time on any device. With the feature of the touch-based interface, end users may create the dashboards, reports and they can view on any devices from mobile to desktop.
9. Google Analytics
Google Analytics is one of the noticeable self-service business intelligence tools in the market. It is beneficial to the companies looking for data visualisation and BI features. It is free to use and highly popular than other BI tools.
As per Econsultancy report, today's nearly 70% of companies use Google Analytics for online report performance. Google Analytics is a freemium tool, and it doesn't support the same level of customer support, and also it does support various data sources like Tableau, Power BI, etc.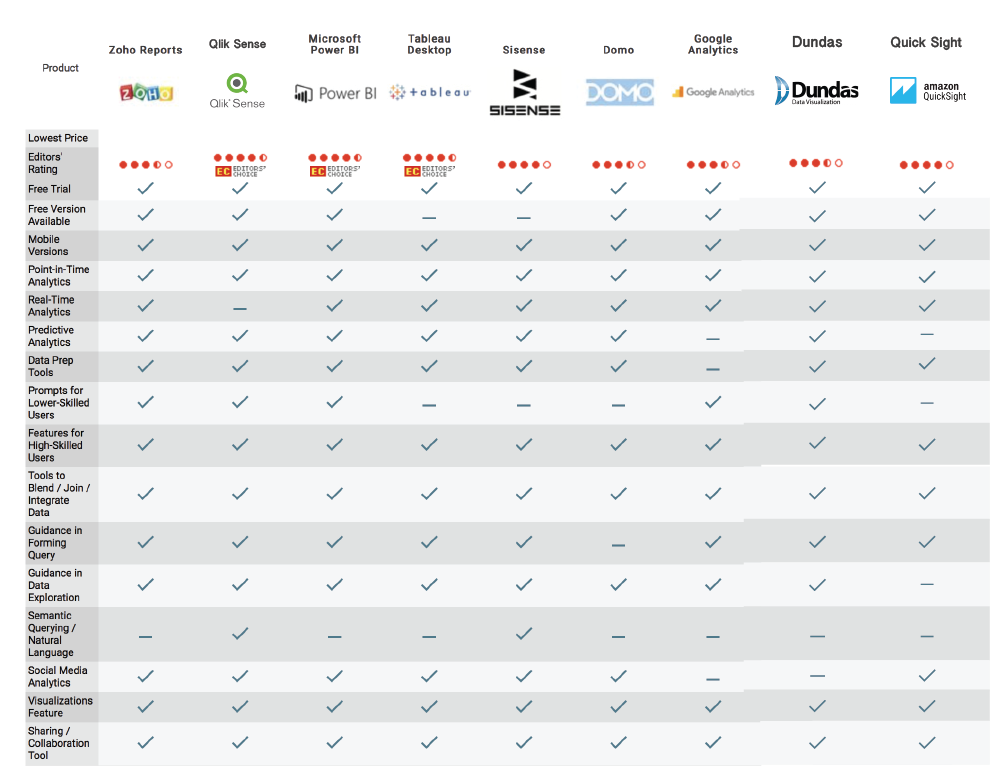 Endnotes
The above discussed are some of the mostly used self-service business intelligence tools. The future of business intelligence is likely to be more automated and effectively utilised with some fewer bottlenecks regarding free data flow and interference limitations. In the coming future, BI trends are speedily evolving and progresses the modern business model.