These days the convergence of web design prowess and strategic recruitment methodologies assumes paramount significance. Nowadays, it is of utmost importance that strategic recruitment tactics and design expertise are combined. Understanding outsourcing's varied applications in the fields of design and recruitment is essential in the current outsourcing structure. In order to highlight its strategic importance, this article provides an in-depth review of outsource web design services.
The Significance of Design
A strong digital presence has undeniable relevance in the present company environment. The mindful art of web design has an unbreakable connection to this significance. Such design arranges user engagement, smooth interaction, and the aligning of brand identity without relying solely on surface aesthetics. The design emerges as a crucial tool for capturing and turning transitory digital fingerprints into permanent support in a time when attention spans are known to be short.
Pursuing the Pathway to Design Proficiency
It takes a combination of technical skills, artistic expertise, and programming knowledge to become an expert designer. Prospective designers would be well advised to set out on a planned route that includes the following checkpoints:
Foundational mastery. Achieving expertise in HTML, CSS, and JavaScript — the key web development languages.
Artistic insight. Immersion in color theory, typographical principles, and layout design strategies.
UI/UX proficiency. Gaining knowledge of user interface and user experience concepts to create interfaces with an intuitive design.
Tool competence. Familiarization with industry-standard design tools, including Adobe XD, Figma, and Sketch.
Curation of portfolio. Assembling a strong portfolio with a variety of projects to demonstrate one's creative ability and technical skill.
The Multifaceted Role of a Designer: Confluence of Creativity and Code
A designer's job goes beyond simple aesthetics in the complex world of digital architecture. It's a harmonious combination of technical proficiency and creative ingenuity that creates engaging online experiences. The various responsibilities that make up this diverse position are similar to the expertly intertwined tapestry-like threads that produce a work of art that is both useful and beautiful.
A skill set serves as both a palette of creative inspiration and a toolbox of expertise within this mosaic of duties. In this case, the combination of creativity and coding produces an interactive ecosystem that appeals to end consumers and captures the spirit of a brand.
Each aspect of this position works together to provide a smooth user experience. Every pixel and interaction on a website, from the first glance at the layout to the finer points of color psychology, bear the imprint of a designer's choices.
Indispensable Competencies for Web Designers: Synthesis of Skills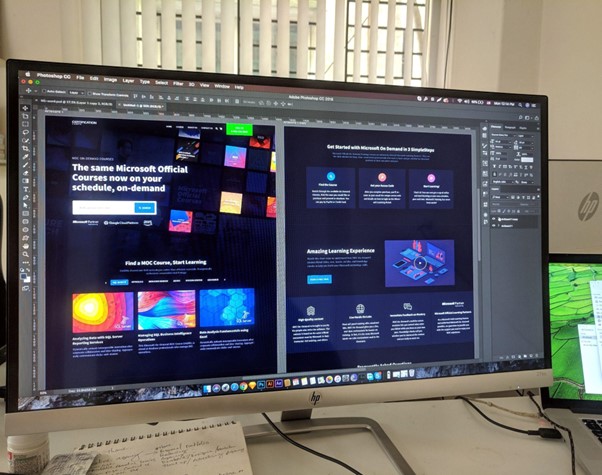 Source: Eftakher Alam. Unsplash
The focus is on the dynamic blending of creative originality and technical accuracy. The precise coordination of talents that effortlessly combine into an exclusive and broad skill set is necessary for the profession of creating compelling digital landscapes. These skills act as the foundation upon which the digital world is built, shaping it into an interesting, understandable, and visually appealing space.
The capability to transcend conventional design paradigms.
A commitment to intricacy akin to micro-architecture.
Proficiency in navigating the ever-evolving currents of design trends.
Effective communication. The ability to interpret client aspirations and articulate design concepts.
Problem-solving proficiency. Agility in addressing intricate coding conundrums.
Advertisement

Deciphering Distinctions between Designs
The basis on which digital experiences are built is the interaction of UI/UX design, web design, and graphic design. Exploring these fields' intricacies reveals a rich mosaic of originality, usability, and visual communication.
Decoding the Dynamics of Outsourcing
When used in the field of web design, outsourcing—a paradigm inherently linked to maximizing operational efficacy—evolves into a strategic concept. Scalability, increased effectiveness, and the enlargement of creative views all highlight this shift. Outsourcing becomes a virtual hub of specialized knowledge, enabling the acquisition of unrivaled design quality that is not restricted by physical boundaries.
Strategic Vistas for Design Outsourcing
Outsourcing web design offers a range of strategic benefits that go beyond the typical cost-efficiency boundaries and drive firms toward increased efficiency, amplified creativity, and the freedom from geographical limitations. The review of outsourcing reveals an expansive field of possibilities where the lines of strategy meet the blank slate of design.
Incubation of startups. Fueling nascent ventures with superlative designs devoid of exorbitant expenditures.
Surge management. Mitigating design inundations, ensuring project continuity and client contentment.
Cultural infusion. Infusing designs with cross-cultural nuances to enhance global resonance.
Project-based endeavors. Streamlining one-off projects with specialized design interventions.
Strategic focus enhancement. Delegating design responsibilities to concentrate on core business competencies.
Navigating the Landscape of an Outsourced Web Designer
Outsourced designers now serve as virtual partners and channels for digital manifestations, transcending the limitations of geography. The following is the course of the collaborative work: project briefing as the starting point, then prototypes and wireframes created by the designer. The realization of a design corpus, symbolic of a harmonious combination of vision and competence, results from the iterative feedback loop that follows.
Gazing Ahead
In the midst of technology's unrelenting advance, web design's direction is ready to change. The position of the designer changes into that of an experienced architect with the integration of AI-driven design tools and immersive technologies like AR and VR. Websites will evolve from being simple digital pages into immersive spaces that blur the line between the physical and digital worlds.
Conclusion
Outsourcing has a lasting reputation as a source of innovation and efficiency in modern digital business. The profession of web design propels businesses toward virtual prominence through the fusion of technical skill and artistic talent. The client and outsourced designer's cooperation takes the form of a dynamic tapestry of ideation, execution, and realization. The possibilities of design and recruiting outsourcing beckon. Here is a field where strategy and creativity come together to create a work of digital triumph.